Turn a Map Into A Wallpaper, A Poster or Digital!
Turn a Map Into A Wallpaper, A Poster or Digital
Customaps offers mapping opportunities that cater to you and your company's brand. From Color to Typography, we can help to personalize your map to fit any space or style.
You can request to have your map printed on poster paper, wallpaper or in a digital format!
Map Builder
Our design team will create a map to reflect your brand...
To Matching Map
Customize Your Wallpaper
Customize your map in your company's colors and
branding to highlight points of location, regional stores, or any point of interest. With so much control of the design process you can change the way your company feels in the office.
shop
Printed Maps As A Business Tool
Our maps come in a variety of formats to accommodate most projects. 
Please Contact Us for more info:
DIGITAL MAPS
CUSTOM SIZED POSTERS
DRY ERASE
PRE_PASTED WALLPAPER
PEEL & STICK WALLPAPER
REQUEST QUOTE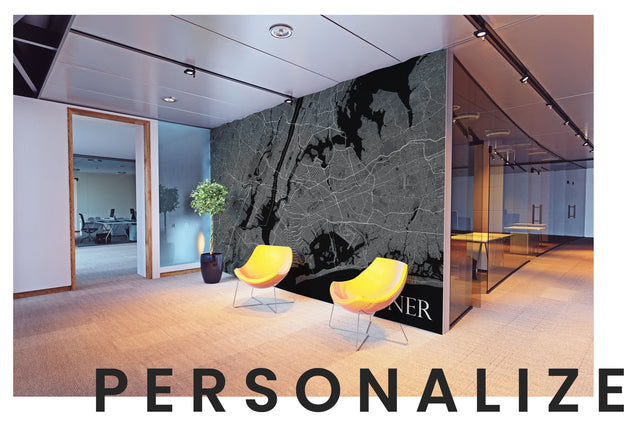 Highlight Important Areas
... like where you ship to and where you do business. This reinforces your brand in any office space, boardroom or even the lounge area. With customization, you can
apply these murals on almost any wall space.
map builder
Showcase Your Region
Showcase where you do business with this neat real estate office idea. Customize the colors to match your logo and upgrade your reception area to attract more clients or close those big deals.
You Have A Specific Request ? Any Question?
If you need even more than what our map builder can offer, or if you have any questions regarding our maps, we might be able to help.
Do not hesitate to send us an email or use the Chatbot on the bottom right side of your screen to communicate with us.
Be as detailed as possible regarding your map project - size, location, style, colors, where it will be installed, preferred material, etc.
One of our designers will get back to you within 1 or 2 business days with a quote and a preliminary design.
Looking forward to get the conversation started!